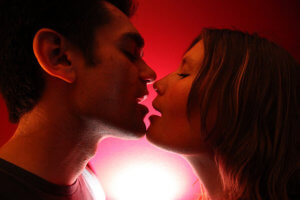 Maintaining passion in a long-term relationship is "critically important" according to Jacq Jones, sex educator and owner of Sugar the Shop. Sure, things like trust and stability are important, but she points out that it is passion that keeps a couple bonded and reminds them of why they're together.
The problem is that when you see the same thing every day – even someone you love – eventually you stop seeing it. It's not anyone's fault, it's just the way people are hardwired. The good news is that the answer is pretty simple: just stop and look at them again, rediscovering what it is that attracted you in the first place.
That was easy when the relationship started – New Relationship Energy is full of focused one-on-one time, but that's not something that is really sustainable in the long term. However, there is a big advantage to knowing your partner so well – you replace the novelty of "shiny and new" with being able to show your partner your love in exactlythe way they want. Jacq's wife brings her lattes, for example, because she knows that's what makes her feel loved and appreciated.
It's an ongoing theme from all the sex educators who talk about keeping passion alive: it's not what you do, it's the way that you do it. Even something as simple as cuddling sexually takes some deliberate practice. Gray and Poetic demonstrate in the video that there can be a lot more to it than just laying there together. Too often the "cuddling" just has one person stroking the "same damn spot", which becomes less affectionate and more annoying. If you are present, though, you can stroke in ways that show your partner that you are present and aware in the moment. That kind of communication improves the intimacy whether it's got sex involved or not.
Dr. Ruthie is one of the most knowledgeable experts on PassionateU when it comes to dating your spouse. One of the keys she recommends is remembering the link between humor and romance. When a couple laughs together, she explains, it helps increase the intimate connection between them. These little shared moments of "silly" behavior and public displays of affection can do a lot to bring and keep a couple together. Her video clip also gives some ideas to get past the self-consciousness that can keep you from expressing your feelings for your partner openly.
"A rut is a rut, even if it's what, we're doing it on the chandelier again?" says Ducky Doolittle in the beginning of her Amp it Up series. Humans naturally look for faster and more efficient ways to get things done, and that includes each other. When you've been together for a long time you tend to get to know each other's sexual triggers. You learn exactly what position, what speed, what words get your partner off. Perversely, though, that means you have less sex because you're so good at it. Ducky recommends one way to get out of that habit is to pick out "new fuckspots." In other words, that place where you usually have sex? Have it somewhere else. "Look at all the furniture in your living room," she says, "and think about how you're going to fuck your way across that room."
Another way to renew the connection and magic is through giving and receiving sexual energy. Mark and Patricia, authors of Partners in Passion, talk about how some tantric techniques can directly improve your connection. For example, they talk about the concept of "isolating" your sexual activity. That's not just a matter of only doing one thing (like kissing). No, when they say isolate they mean that one partner gives the sensation while the other one recieves. No expectation of reciprocity – and that's a lot harder than you might expect.
The difficulty is part of the point, though. It takes more focus and conscious effort, and that translates into attention on your partner. Whether you're the giver or the reciever it takes effort, and knowing that makes you more aware of the effort your partner is putting into what they are doing.
This can translate into bigger activities, something like the pussy romance Mickey Mod and Dylan Ryan demonstrate explicitly in their video. There's so much attention given to the G-spot and the clit and penetrative sex – what about the rest of the vulva? Taking your time to explore the labia (minora and majora), the different muscle structures within the vagina, or even just the joy that can come from a slow massage of the mons veneris. These are all things that can get overlooked or tokenized during sex – changing them to the focus can lead to a whole new path of pleasure.
So don't worry if it feels like you're getting in a routine in your relationship: that means you're doing it right! With a little effort you can shake things up just enough to remind you both why you're so hot for each other all over again, and enjoy the sexy times for years to come.
You need to login or register to bookmark/favorite this content.