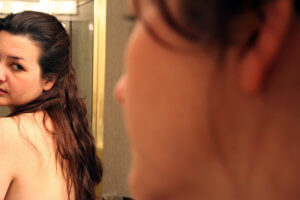 Ivy Miller is a young, healthy, shapely woman who is both a costume designer and someone who loves dressing up whether it's for a party or for a lover. But in her frank and open video on Body image & Feeling Sexy, she reveals that she has struggled with "body dismorphic disorder" her whole life. That is a phrase that covers a lot of different symptoms, but in general it means that the way a person senses their body – through sight, touch, weight – is not in synch with the way their body actually feels. In other words, the old joke about "Does this make me look fat?" doesn't matter, because regardless of the answer, the brain has already decided.
BDD is a serious mental condition that requires professional attention – and as Ivy Miller shows, it is not related to a person's appearance. It's common for almost anyone to be most critical of themselves – quick to notice parts of their body that they see as "flawed". What's really unfair about this is that humans are predisposed to ignore the things they find unattractive and focus on the things they like – in other words, the thing that you think everyone is noticing is most likely the thing that most people are ignoring! So how can you fight against the sea of pop culture, advertising, and unrealistic expectations to feel happy and confident in your own skin?
Since the mind is the way we experience the world – including our experience of ourselves – Dr. Jenn gives a really good start in her video on Using Mindfulness for Body Image. She explains how to re-frame your awareness of yourself using meditative and guided affirmation. It's not a one-step cure. Dr. Jenn explains that these are incremental changes that build up over time – but you have to start sometime.
This kind of self-awareness can be amazingly beneficial and at the same time agonizing as you come face-to-face with some inner demons. Dylan Ryan and Andre Shakti recommend that when you're developin body confidence it's best to take some Time Alone. Andre echoes Dr. Jenn's recommendation that you work on it using meditation, but her methods are much more hands-on, exploring the ways that your body responds to touch, to temperature – in other words, turning your alone time into a beautiful kind of masturbation.
For the daring there is also a body image exercise modeled by Graydancer and Poetic Desires in their Body Image series. In the first two videos, they each individually talk about their own bodies and what they don't like about themselves. In the third video, though, they talk instead about what they like about each other. Both Gray and Poetic were surprised in creating the video to discover new things that they'd never realized the other person liked. While they both caution that the exercise can be kind of scary (and should only be done with someone you trust) they also found it incredibly rewarding.
Another example of an exercise to help better appreciate the wonders of the body is found in Miss Cheeky's "Embracing Your Curves" video. With adult film star Kelly Shibari as an example the two women show how to take a new look at the "real" existence of Kelly's body. One of the benefits of this kind of appreciation is that it takes power away from the cultural expectations portrayed in media. In fact, another adult star, Kitty Stryker, includes in her series on Plus-Size Sex (now available as a Passion Pack) a whole segment on "Lingerie & Dressing Sexy" where she shows how to pick out clothes that emphasize the parts of her body that she finds sexy and stimulate her sexual imagination and fantasies. Much like Ivy Miller, she emphasizes that every body can both look and feel sexy if you combine the self-awareness with a dose of creativity and daring.
One of the traps that popular culture will try to pull people into is the idea that "real women have curves" or something like that. The fact is that "real women" come in all sorts of sizes – thin, curvy, tall, pear-shaped, you name it. Everyone deserves to feel sexy in their body, and part of that can be using their body as an external expression of their sexuality. Arden Leigh, seduction coach and author of "The New Rules of Attraction" teaches Body Language that uses posture, gesture, proximity and more to send the message out to the world: I am here, and I feel sexy. That may be just the way you walk in the bedroom to your spouse, it may be the way you stand at a busy singles bar – it may even just be the way you look in the mirror at yourself. Start on the inside of your brain and work your way outward. Discover that sexy self that you deserve to be.
You need to login or register to bookmark/favorite this content.