Slippery When Sexy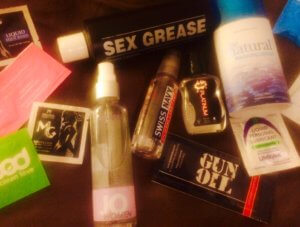 Lube is like wine. There are many different varieties with various characteristics you might like or not, and different brands are appropriate depending on what they're being used for. A couple might have one kind of lube for anal sex, a different one for vaginal intercourse, and still a different one for fisting play. Like wine, there are different brands and different price points and even different accessories. Lube heaters, travel size lube, even "lube shooters" to make sure that it goes exactly where it's needed.
With all those choices, it can be a little dizzying when it comes to picking out the right one. Here on PassionateU there are many educators ready to guide you through the many choices and reasons to use lube, so you can have the right slippery stuff at hand when you need it.
Ned Mayhem is enthusiastic about many ways of masturbating, and he devotes an entire clip to Lube for Male Masturbation. He explains that men who are circumcised especially might want to get some lube to help the process. He also cautions against using petroleum jelly for masturbation – not because it's terribly bad for you, but simply because it's even harder to get off your skin than silicone lube! Aside from that men tend to have an easier time finding lubes than women simply because most of their lube is applied externally.
In Finger TimeMickey Mod & Dylan Ryan talk about using lube on the inside of the vagina and on the vulva. They explain how there is a myth that if a woman isn't wet she must not be excited. The fact is that "natural" lubrication and arousal aren't really correlated, and having your lover put some lube on their fingers before touching you is good for both partners.
Sarah Sloane from The Pleasure Chest in Chicago goes over some of the main categories of lubes and their uses in Toys and Lube for G-Spot Play. The two main categories are silicone and water-based, and there are some toys that should only be used with the latter. Metal toys like NJoy products can be used with silicone without concern, though, and that will often work throughout a sexy session without having to re-apply more. Water-based lube tends to have more varieties than silicone lube. You can get "creamy" lubes like Liquid Silk or clear lubes such as Jo. They also come in various flavors, which Ducky Doolittle explains can help women please their men during blowjobs.
However, that's one of the ways that lubes can also go wrong! Some water-based lubes are flavored with glycerine or other sugar-based products, and that can spell bad news in terms of yeast infections for women. Jacq Jones, owner of Sugar the Shop, talks about the safest lubes for fucking in her Sex Tips for Straight Womenand Men, two clips all about how lubes can work well for fucking. It might seem strange to think that there are different lubes for different genders, but when you consider that there are different body parts, some of which self-lubricate and some of which don't, it makes more sense.
There are a couple of ways to figure out exactly what kind of lube is right for you, and it doesn't start in the bedroom – it starts with going to the local sex shop where they will have "sampler packs" or even open sample bottles for you to taste. Like wine, it's important to try it out before you invest in a good bottle – and in some cases, both the wine and the lube cost about the same! There are some lubes that will feel great on your skin but leave an unpleasant aftertaste in your mouth, and some that will taste fine but be absorbed into your skin too quickly. If you don't have a sex toy store locally that will let you try before you buy you can also order many sampler packs from online retailers such as Amazon.
You also want to consider having several different types, such as one for masturbation, one for vaginal sex, and perhaps a thicker silicone lube for anal play. Rain DeGrey is very enthusiastic about anal, both with her lover and when masturbating, and she has lube ready and waiting when she starts playing back there. It's important to both lube the outside of the ass and also make sure you get some inside, which she demonstrates in her video. She also shows how it doesn't have to be annoying or awkward – far from it!
Putting lube on (and in) your lover can be a wonderfully intimate part of sex, if you simply take the time and attention to make it so. Lube makes sex both easier and more fun, so take the time to explore your own "lube palate" and get the right selection for your sexy times.
You need to login or register to bookmark/favorite this content.