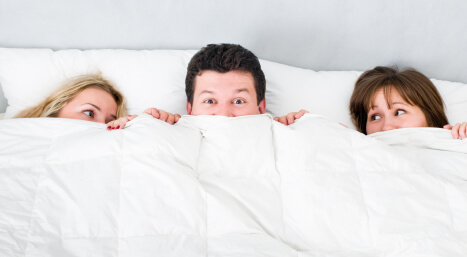 "Open relationship." "Non-monogamous." "Polyamory." These are all buzzwords that have been in the media more and more in the past few years. High-profile celebrities like Will and Jada Pinkett-Smith or Tilda Swinton have openly admitted to having non-traditional relationships; television shows like "Sister Wives" have sensationalized the idea.
That's the media, though. What does it really mean to be attracted to more than one person – or even to have a relationship with more than one person? Is it nothing more than cheating? Is it all about the sex? Do both partners have to do it together? Is a "don't ask-don't tell" arrangement really healthy?
Dr. Patti Britton, a clinical sexologist, has tackled this question for this and other alternative relationships. The answer is both short and frustrating: it depends. All of the questions are specific to the relationships themselves, and there's no answer that goes across the board.
Take cheating, for example: the word means "breaking the rules." If the rules of your relationship say "you can have other lovers" then it's not cheating. On the other hand, if another rule is "Tell me when you have sex" and someone lies, then that might be considered cheating.
For a lot of people that kind of ambiguity makes polyamory seem way more trouble than it's worth. Sarah Sloane, a Chicago-based educator at the Pleasure Chest, admits that there are both pitfalls and joys for polyamory. For her, and for many others, the rewards are worth the work involved. After all, the objective is to have more love in your life – that's not a bad thing, right?
Perhaps not bad, but it can certainly become complex, and that's why Sarah also gives a talk about tools that can help when you're tackling polyamory. These range from the simple pragmatic usefulness of shared calendars to techniques for communicating and handling emotions more constructively.
Polyamory is really only one kind of non-monogamy. There are many others, and Makael Newby has a lot of experience with both poly and another common form of open relationship: swinging. In her guide for novices she explains the differences between the types of non-monogamy so that you can decide what kind of relationship best suits you and your partner(s).
It's not even enough to just decide "OK, we're poly!" There can be a pretty simple definition of what poly is: Multiple romantic relationships with the full knowledge and consent of everyone involved. However, what that looks like in practice is pretty variable. It's kind of like Christianity: Catholics are different than Mormons are different than Southern Baptists, but all share a common belief. One of the most experienced teachers in the world of open relationships, Mim Chapman, goes through several varieties of polyamory starting with "poly plural pairs" and building into things like family circles and "sensuous snakes." She accompanies each description with suggestions for how to build the skills you need to maintain the relationships.
One of the biggest objections to non-monogamous relationships is the idea of jealousy. For some reason, unlike anger or lust or greed, jealousy is given a kind of "untouchable" status in many relationships. "Don't do that; it makes me jealous" is usually how it goes, instead of "Huh, when you do that, I get jealous. I should figure out why that is and how to manage it." Anita Wagner has given the topic a lot of thought, and her two-part series on dealing with jealousy in poly relationships includes the revelation that jealousy is almost always rooted in fear – and addressing the fear is going to be a much more effective way of keeping the "green-eyed monster" at bay.
Getting back to the fun part, Marcia B's Dating for Non-Traditional Relationships Online gives some great tips for leveraging the power of technology to find those special someones. She includes ways to make your dating profile attractive to others wanting open relationships and also warning signs of "unicorn hunters" and others you may not want to be involved with.
Once you are in a polyamorous or open relationship, you have to remember that outside of the happy warm times together is a society that is only starting to admit that these relationships might have some basis in reality. Attorney Aimee Bouchard talks extensively about some of the legal considerations for polyamory including medical and family issues. These kinds of things vary from state to state and country to country.
The most important thing to remember is that open relationships are just like monogamous relationships in that they are only as good as the work people put into them. Communication, attention, compassion, and equality of expectation are all elements of a healthy relationship regardless of the number of people involved. While there are no shortcuts, loving more can be immensely rewarding, satisfying, and healthy.
You need to login or register to bookmark/favorite this content.