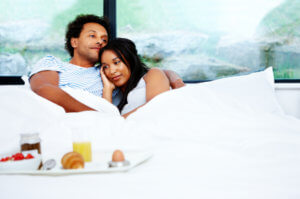 "Where has the romance gone?" Anyone in a long-term relationship will probably have this question occur to them at some point. Between the stresses of everyday life and the simple familiarity of shared lives it gets more and more difficult to recover that initial spark that brings people together.
One of the ways you can rekindle your passion for each other is to follow Dr. Ruthie's advice about dating your spouse. The good news? It's much easier the second time around. Among other things, you're pretty sure they're going to say yes. Even better you know their tastes and their preferences and that makes it possible to give them a truly luxurious experience.
Can you imagine if someone cooked you dinner and just happened to make all your favorite foods? Played your favorite music? Wore the clothes that you most wanted to see them in? Talked about all the things that made you feel smart, witty, and interesting?
That kind of experience would be almost irresistibly seductive, which is why a good deal of the Principles of Seduction taught by Arden Leigh involves researching what your partner likes. As the author of The New Rules of Attraction, she doesn't think you should ever stop that kind of allure. Just because one seduction has worked and you've "got them" doesn't mean you should stop paying attention to them. Relationships require care and attention, and Arden's methods give both partners the focus to give and receive romantic energy that helps keep things hot.
One of the classic fantasies is the idea of doing an erotic dance for your partner. If you're not already comfortable with dancing sexually, though, how do you get past the self-consciousness? It's hard when watching some of the images in the media of exotic dancers to picture yourself doing those things, and there's often a fear of looking foolish.
Burlesque performer Andre Shakti understands these fears and also has a step-by-step tutorial for getting past it. It starts, like most things in relationships, withcommunicating with your partner. It means setting up a basis of love, and an understanding that by dancing your are opening yourself up and being vulnerable. That trust is the first essential step to true vulnerability, and the essence of why the erotic dance you do for your partner can be so much better than a "professional" dance. It is a dance from you, the person they love, and that makes it completely unique and precious.
If the pressure of a dance is too much, there are other more basic ways to pamper your partner with some intimate luxury. Bettie Rage is a professional who believes in many benefits of sensual massage for couples. She has explicit instructional videos showing techniques to massage every inch of your partner, starting from creating a romantic environment all the way through the choosing the right kinds of oils.
Some inches enjoy that kind of attention more than others, and they're the kind of inches that most masseuses don't necessarily focus on. Giving your partner a thorough"Bum Massage" as taught by Yonilicious. While this includes the general deep-tissue muscle massage it also has more erotic touches and strokes, so that the goal is both to relax and arouse your partner. Yonilicious talks about alternatives to oil-based massage oils (in case you're heading to a situation where a condom might be needed)
Of course, in some situations that might be the goal from the beginning; if you're wanting to use sensual massage as foreplay, San Francisco-based sex educator Shay gives a great tutorial on pacing and slowly seducing your partner with hands, fingers, and occasionally mouth, breasts, and other parts of the body.
There are more ways to give your partner a luxurious service than massage, though. Chloe Camilla has her lover Juliette Marsh give her a full pedicure, complete with nail polish in her favorite color. This can be an amazing treat for anyone who works on their feet most of the day. It's also not something that needs to be limited to women; most men's style experts agree that a well-kept hand and foot regimen is an essential part of masculine couture. Sure, your man could go and get it done at a salon – but how much more fun would be if you do it for him, dressed in something sexy and perhaps enjoying a few fantasies of "added services" to go along with the buffing and filing?
It's also a good idea to remember that you don't have to wait for your partner to do this kind of thing. You also have a relationship with yourself that deserves attention. Along with her erotic dance series Andre Shakti also teaches about how to improve yourbody confidence with some solo time. Whether it's treating yourself to a bubble bath or some hot and sexy experimenting with something like ice cubes and your favorite vibrator you deserve the attention as well.
Figuring out how to add a little luxury to your relationships can be an easy way to give yourself a nice jolt of romantic energy whether it's by yourself or with your soulmate. The key is to first find out what kind of sensations you both crave, and then to give them selflessly to each other as a gift of love.
You need to login or register to bookmark/favorite this content.